Are you wondering what the A1 and A2 speed ratings are on some microSD cards? Then you've come to the right place. We take a look at what these ratings mean, compare the differences, and discuss when you might need to take notice.
Since Apple's IOS and Google's Android operating systems hit the mobile technology market over 10 years ago, being able to give users the ability to add or remove additional storage capacity when desired, has been a major difference between the two systems. A microSD card slot is offered in various devices which operate using Android, allowing users to add an adjustable quantity of storage. Thanks to Android's adoptable storage device capability, microSD cards have rapidly been adopted by users globally. 
In some cases, these operating systems allow apps and additional data to be stored on a microSD card. For this reason, the Application Performance Class was introduced to ensure the smooth running and loading of apps.
---
This article contains:
---
What is Application Performance Class?
Simply put, there are different speed classes for microSD cards, dependent on how big of capacity your handling and what type of performance you require. Application Performance Class is one of these categories, developed to certify that microSD cards incorporated within Android's storage capacity, could endure the performance needed to manage numerous applications from the microSD card directly.
The SD Association states, "The Application Performance Class was introduced to realize comfortable application manipulation such as compilation of data which is stored in an SD memory card."
So, now that slotted Android devices can store and run apps from removable cards, the SD Association has introduced a new specification to enable the best user experience – Application Speed Class 2 (A2).
Application Speed Class 2, defines the minimum specification for cards and host devices. Sequential read and write speeds are now joined in importance by random read/write speeds (measured in IOPS). The higher the IOPS (Input/Output operations Per Second) the smaller files can be read and written to the card in any one time. So, for apps that open multiple small files – high scores, different graphics for a single level, licensing permissions, etc. – a minimum IOPS level is important, which is covered by the A2 spec.
Carry on reading to take a look at a comparison of performance differences between the A1 and A2 rated memory cards.
A1 vs A2:
What's the difference between A1 and A2 ratings on memory cards?
A1:  "The Application Performance Class 1 (A1) was defined by SD Physical 5.1 specification. Not only for storing maps, pictures, videos, music, dictionary and documents, it also enables the user to be freed from sluggish for editing and updating data."
A2: "The Application Performance Class 2 (A2) is defined by SD Physical 6.0 specification. It makes SD memory card much higher performance than the A1 performance by using functions of Command Queuing and Cache."
Here are the listed performance differences between the two specifications:
The 'IOPS' in this diagram represents input-output access per second, a slightly unusual unit to what the speed of memory cards are usually measured in, which is typically in megabits or megabytes per second in accordance with how bitrates of a video are measured. However, using IOPS to determine the speed is more reliable for measuring the type of tasks that apps undertake.
From this diagram, and in reference to IOPS, it is clear to see that the A2 provides an extraordinary gain. The minimum read performance is up by 2.7x, at the same time as providing 4x faster minimum write speeds. 
Memory card manufacturers are now beginning to release microSD cards with the A2 performance specification. In particular, SanDisk offers a microSD card fast enough to outpace the integrated storage on certain devices. Boasting that it is the world's fastest UHS-I microSD card, with up to 160MB/s consecutive read performance, introducing the SanDisk Extreme A2 Micro SD card.
Is the Application Performance Class Specification relevant to cameras?
For the time being, not really. However, this could change in the future if cameras turn out to expand into more app-heavy devices. If this happens then perhaps it will be more relevant to them someday.
If you're wanting to choose a memory card suitable for a 4K camera, we recommend picking a card that carries both the A2 rating and a V/U speed rating – like the combination of SanDisk's Extreme Pro Micro SD Card.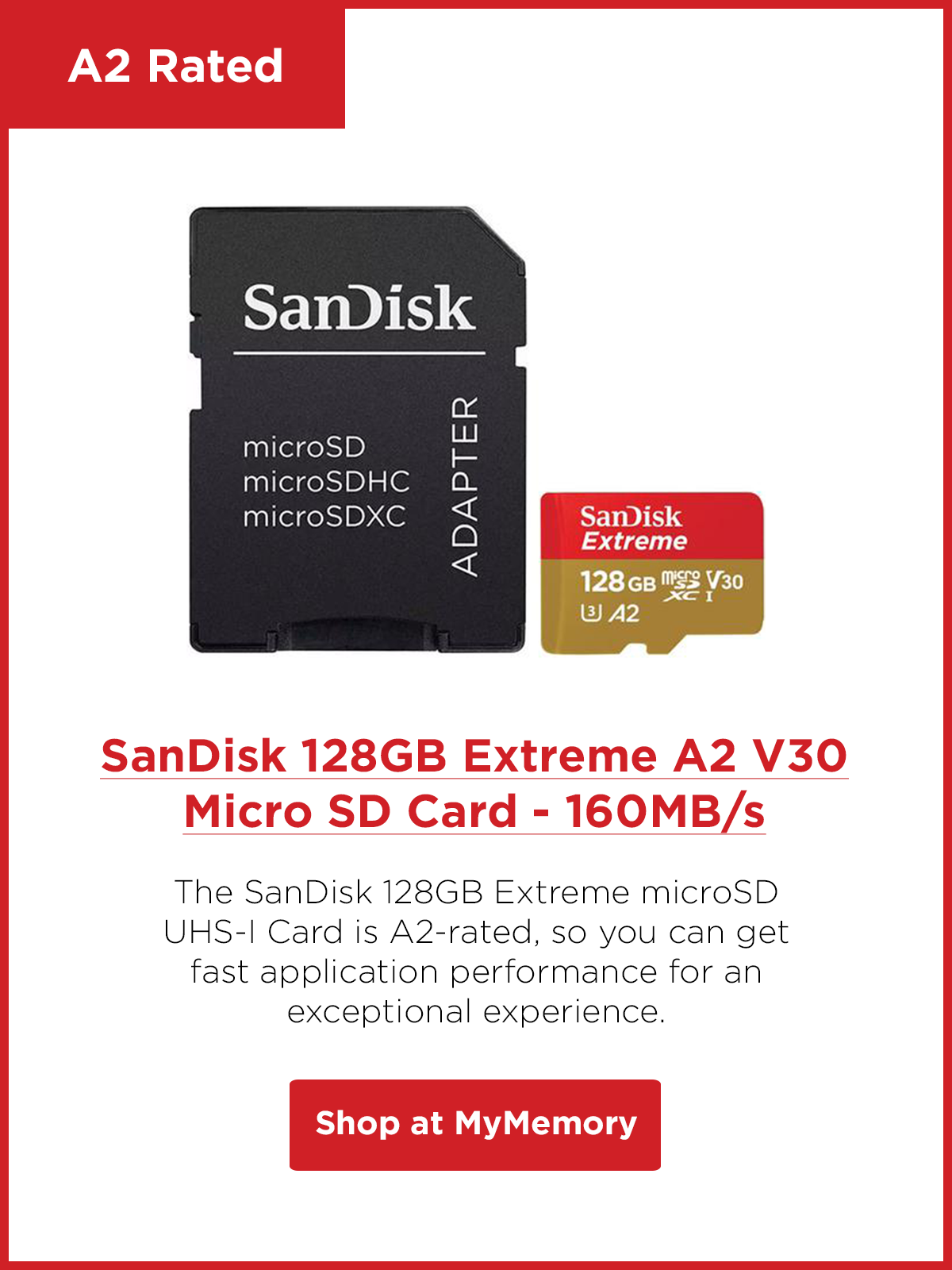 Looking for an A1 or A2 rated card? Be sure to visit our website now to view our full range of compatible microSD cards.