A power bank is a perfect partner to have with you on your travels, but what are the rules about taking one on board a plane?
Travelling can be stressful. Have I remembered my passport? What time do I need to check-in? Can I take this in my hand luggage? All of these are common questions typically asked by individuals travelling on a flight. But, have you ever been uncertain whether you can take a portable power bank on board with you? We take a look at everything you need to know about flying with a power bank.
Are power banks allowed on planes? 
To put it simply, yes. The majority of power banks can be taken on a flight as long as they are under a certain capacity and are carried in your hand luggage.
Power banks use lithium-ion batteries, which means they can only be taken on a flight if they are packed in your carry-on luggage. This rule also applies to any devices that use a rechargeable lithium-ion battery, like your laptop or mobile phone.
Why are power banks prohibited from your checked-in luggage?
Airlines prohibit power banks from being checked in with your cargo luggage for the purpose of your safety.
These days, lithium-ion rechargeable batteries seem to provide power for most portable electronic devices. From your smartphone and digital camera to hearing aids and remote-controlled toys, they can be found in numerous things.
In extreme situations, these batteries have the ability to burst into flames. Although a very rare occurrence, there is still a high risk that this can happen at any time. Airlines would rather handle the risk of lithium-ion batteries in the cabin, rather than in the luggage compartment where no one will know if such an incident, like catching fire, has occurred.
What size power banks are allowed on flights?
Now that you know it's possible to take a power bank on a flight, it's important to note that they must be under a certain capacity. Power banks taken on board a flight must not exceed the 100Wh (Watt-hour) limit. Generally, the majority of power banks don't exceed this limit but it's worth checking the capacity of your portable charger, regardless.
How many Wh is my power bank?
Although most power banks are under the 100Wh limit, it's important to still check the capacity before you take one on a plane. There will be nothing more annoying than packing a massive power bank in your hand luggage to only have it taken off you at security for being over the limit.
How to calculate the capacity:
If you are somewhat confused about how to calculate the capacity, then not to worry. We have outlined a simple calculation method below, to help you check the watt-hours of your power bank.
Just take the Milliamp Hours (MAH), divide it by 1000 X Voltage (V) = Watt Hours (WH)
(MAH)/1000 X (V) = (WH)
Still unsure? Take a look at our example below using the Anker PowerCore 3A 10400mAh Portable Power Bank:
The Anker PowerCore 3A Power Bank has the capacity of 10400 Milliamp Hours. If we divide this number by 1000 and times it by the Voltage of 5, we'd be left with 52 Watt Hours, which is under the limit of 100Wh.
10400/1000 X 5 = 52
What if my power bank exceeds the limit?
If your power bank exceeds the limit and you still want or require to take it on board with you, you will need to get special permission from the airline you are travelling with.
Can I take more than 1 power bank with me on a flight?
With most airlines, yes. But it's worth checking with them before you fly. British Airways states that a person can take a maximum of 4 batteries of up to 100Wh, this includes the batteries used in mobile phones, digital cameras, and laptops.
Best portable power bank for travel: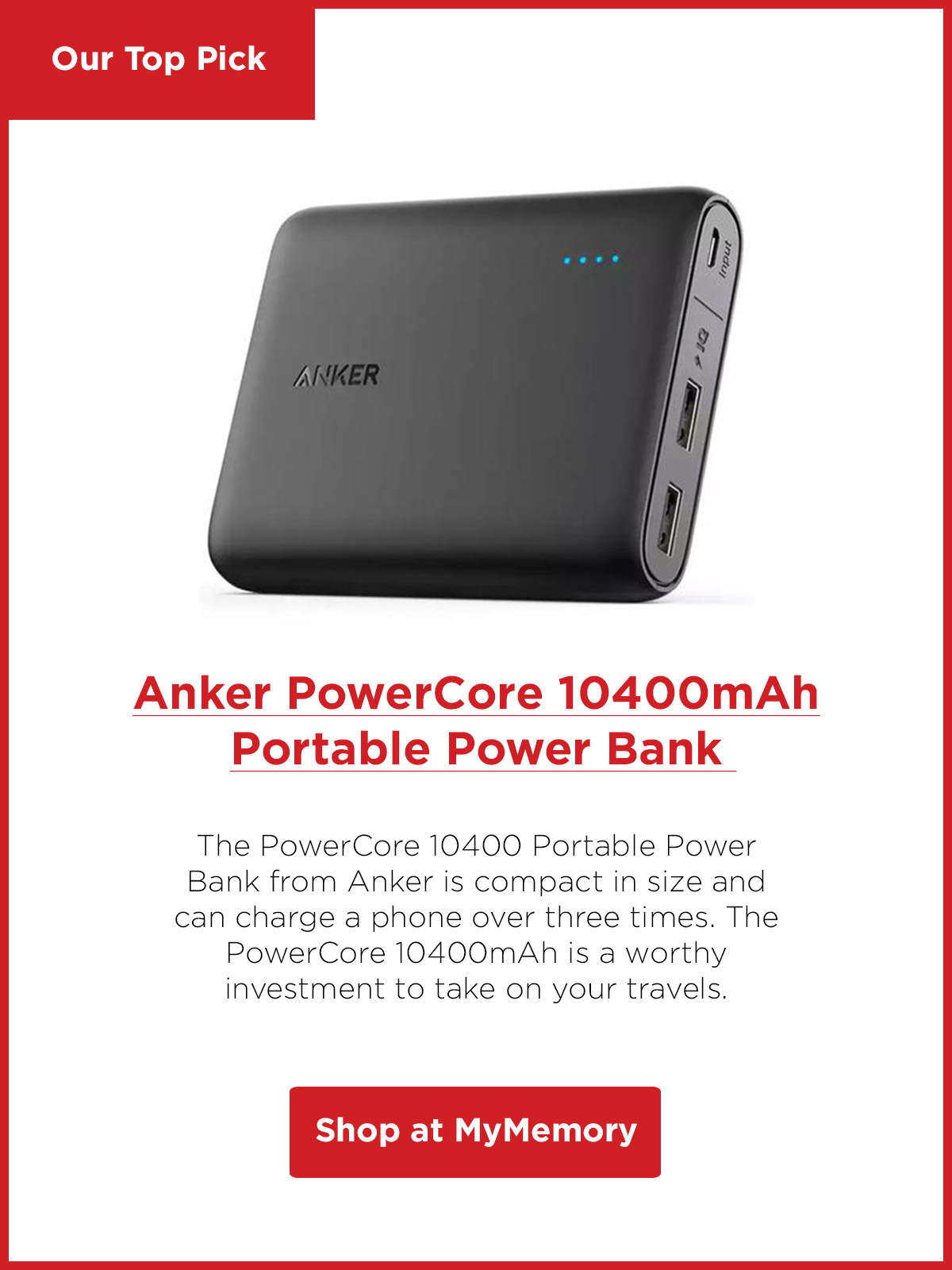 Compact in size and small enough to fit in your hand luggage, this power bank can charge a phone over three times, so you can give your phone a boost before you land to your next destination. Anker's exclusive PowerIQ and VoltageBoost technologies combine to ensure a quicker, safer charge up to 2.4 amps. Plus it's under the 100Wh limit at just 52Wh and comes with a small bag to keep it safe whilst on the move.
When travelling with electronics, it's always better to be well informed than to take an unnecessary risk. From sizes of power banks to where to store them, we hope our above guide to flying with a portable charger has fully prepared you for your next trip away.
If you are still unsure about anything, it's better to check with the airline 72 hours prior to travelling, as different companies have different restrictions.
Are you wanting to keep your phone topped up whilst onboard? Head to our website now to view our full range of portable power banks.